Why pay thousands of dollars for a professional laser treatment to remove unwanted hair. Not to mention the pain that goes along with it when you can remove your hair all on your schedule, in the comfort and the privacy of your home, at a fraction of the cost. Yet, with minimal pain with the help of the Painless Light Hair Removal Laser!
This hair removal device effectively removes unwanted hairs and inhibits it from growing with continuous use.  It works using laser technology that emits rapid light pulses. The pulse works under the skin's surface to target hairs at the root to inhibit their growth. It's gentle enough for everyday use and it won't cause irritation at all! It can be used in the underarms, legs, thighs, bikini line, face, neck, shoulders, and back.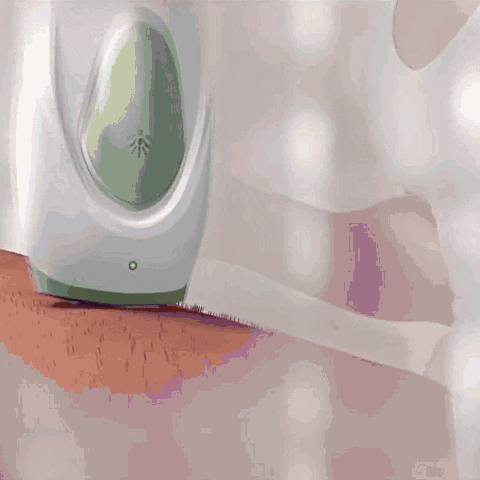 Features & Benefits
Comes with 5 light levels
100,000 flashes for a complete treatment
Clinically proven safe and effective
100% pain-free - gentle on the skin
Time-saving and cost-effective
Easy to use and operate
No batteries or charging required
Suitable for most areas of the body
Suitable for both women and men
Safe for all types of skin 
Say goodbye to shaving, waxing, and expensive IPL clinic treatments FOREVER with the Painless Light Hair Removal Laser!
STOP SHAVING, PLUCKING, WAXING, AND THREADING
Laser Hair Removal is the fastest, safest and most painless way to remove hair, permanently.
HOW TO USE?
No batteries or charging required, simply plug in the device to begin treatments. Bring the machine close to the target area so it is perpendicular to the skin and apply the laser light treatment. With 5 levels of light pulse intensity, you can customize the treatment to suit your level of hair growth.
How often do I need to use it?
We recommend using your handset once a week for the first 12 weeks. After this period use your handset once a month, for 3 months or until satisfied. To maintain hairless smooth skin, use your handset once every 2 to 3 months, or as needed.
Which areas of my body can I use this on?
You can use your handset on your entire body, including your face (just be sure to not get too close to your eyes).
Recommended Pre and Post Treatment Care
Pre-treatments. Days prior to the treatment, direct exposure to sunlight must be avoided. Therefore, you should protect the skin by wearing long sleeves or applying a generous amount of sunscreen, preferably with SPF 30+. However, if the IPL treatment is within 24 hours, do not use any lotions or sunscreens. Fake tans and solarium should be avoided too.

Other pre-treatment skin care:
Shaving 12 hours beforehand is advised. Superficial hair is not needed for the IPL hair removal treatment.
Waxing, epilating, or plucking for about a month or week before the scheduled session is not allowed because it can reduce the efficiency of the treatment. You want to hit the roots
Ensure that your skin is free from any cosmetics, lotions, deodorants, creams or the likes is a must.
Avoid microdermabrasion, exfoliating, or use of chemical peeling before the treatment.
Wearing loose and comfortable clothes during the treatment schedule is highly recommended as this could bare the spot to be treated easily while giving the treated skin area a minimal contact after the management.
After following all the precautionary measures for the skin prior to the treatment, the skin is now good to undergo the hair removal therapy.
Post-treatments. Once the treatment ends, continuous skin care must still be maintained. Waxing and plucking the treated area must be highly avoided as these could mess up the treatment and could lead to possible stimulation and regrowth of the hair follicle. The treated area can only be exfoliated once redness dwindles. This could be done in about one to two weeks post hair removal.

Other post-treatment skin care:
For the next 48 hours, hot shower baths or soaking must be avoided.
Vitamin E should be applied to calm the skin especially when discoloration or pigmentation happens.
For two to four weeks, avoid tanning and having direct contact with the sunlight.
Only mineral makeups are allowed to be applied on the skin for 48 hours after the treatment. Other cosmetics are discouraged until the skin is healed.
Deodorants must also be used at a minimum to prevent irritation.
To avoid scarring which may be a result in a scab, it is important to remember that scratching is highly discouraged.
Avoid extreme exercises for the next 24 to 48 hours post-treatment in order to avoid irritation from the sweating.
Tight clothing must be avoided.
Following all the skin care protective measures even after the treatment is necessary as these would promote fast healing of the skin and maintain the efficiency and effectiveness of the hair removal program.
We would also advise you to avoid treating areas near your eyes. If you are doing the chin, upper lips or sideburns, wear protective DARK goggles which can filter the light. We do have one available as a bundle with this product!
A HIPPO PROMISE
Hippo's on a journey to find some of the most unique and awesome products around the world and promises to offer a risk-free 30-day guarantee – that's a Hippo Promise!

There's absolutely ZERO RISK buying from HippoCatch.

A HIPPOCATCH OATH!

FREE shipping. No surprises or hidden fees.
Safe payments via Credit/Debit Cards and/or PayPal®
30 Days Money Back Guarantee
Tracking number for every order
ORDER PROCESSING

We process orders within 1-2 business days, excluding weekends and holidays.
Successfully placed orders will receive an e-mail confirmation with the order details. If you do not receive an e-mail, please check your spam filter or contact us for confirmation.
If you need any assistance with your order, please contact us immediately at support@hippocatch.com We will not be able to make changes to your order after it has shipped.
*PLEASE NOTE, TO HELP KEEP PRICES LOW AND TO PROVIDE THE BEST SELECTION OF PRODUCTS, WE USE MULTIPLE WORLDWIDE SUPPLIERS. THIS MEANS IT COULD TAKE UP TO 3 WEEKS FOR YOUR ORDER TO ARRIVE*