Kitchen knives are expensive. Just because your old knives are dull doesn't mean you need to toss them in the trash. Give your knives a makeover and restore them to their former glory using our kitchen knife sharpener. The professional and portable design works on all types of knife blades, unlike a standard electric knife sharpener or sharpening steel that only accommodates a couple of different blade types.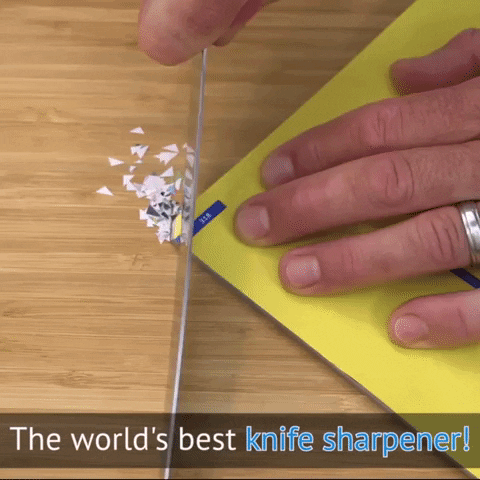 TUNGSTEN CARBIDE SHARPENERS AUTO-ADJUST TO BLADE ANGLE
Ultra-Hard Tungsten Carbide sharpeners on patented spring-action bars adjust to the angle of the knife blade. Control the angle from 12 degrees for a super-sharp fillet knife to 20 degrees for a rugged chopping blade.
Give your old knives a makeover and transform them into razor-sharp tools in seconds. Your old knives will chop, slice, filet, and dice just like the day you got them with this Knife Sharpener.
SHARPENS, HONES, AND POLISHES
Sharpens hones and polishes your old knives – give your chef knife and butcher knife a makeover.
FOR ALL SIZE & TYPES OF METAL KNIVES
Professional and portable knife sharpener works on all types of knife blades, like standard, serrated, and beveled. This Knife Sharpener sharpens the following types of knives: Japanese knives, Chef knives, Serrated knives, Boning Knives, Paring knives, Cleavers and so much more...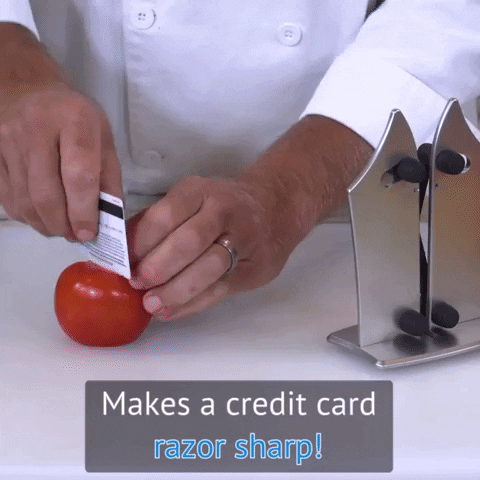 SPECIFICATIONS:
Size: 7.07 inches x 4.72 inches (or 18 cm x 12 cm)
Weight: About 6.7 Oz (or 190 g)
Package includes: 1 x Knife Sharpener
A HIPPO PROMISE
Hippo's on a journey to find some of the most unique and awesome products around the world and promises to offer a risk-free 30-day guarantee – that's a Hippo Promise!

There's absolutely ZERO RISK buying from HippoCatch.

A HIPPOCATCH OATH!

FREE shipping. No surprises or hidden fees.
Safe payments via Credit/Debit Cards and/or PayPal®
30 Days Money Back Guarantee
Tracking number for every order
ORDER PROCESSING

We process orders within 1-2 business days, excluding weekends and holidays.
Successfully placed orders will receive an e-mail confirmation with the order details. If you do not receive an e-mail, please check your spam filter or contact us for confirmation.
If you need any assistance with your order, please contact us immediately at support@hippocatch.com We will not be able to make changes to your order after it has shipped.
*PLEASE NOTE, TO HELP KEEP PRICES LOW AND TO PROVIDE THE BEST SELECTION OF PRODUCTS, WE USE MULTIPLE WORLDWIDE SUPPLIERS. THIS MEANS IT COULD TAKE UP TO 3 WEEKS FOR YOUR ORDER TO ARRIVE*